Back to all posts
Posted on:
Farewell Mrs. Wickenheiser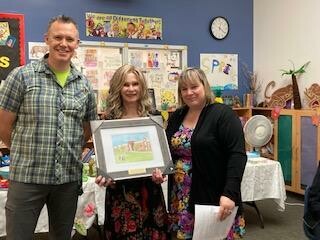 Current and former staff of Dr. Hamman School gathered today at lunchtime to celebrate Mrs. Wickenheiser's retirement.  Dr. Wilco Tymensen, Horizon Schools Superintendent and Associate Superintendents Terri-lyn Duncan and Robbie Charlebois also attended.  Mrs. Wickenheiser worked in Hays School, Vauxhall Elementary, Enchant School and finally Dr. Hamman School for a total of almost thirty years.  Students from Kindergarten shared their kind thoughts and wishes via a class video, and the school presented Mrs. Wickenheiser with a watercolour painting of Dr. Hamman School that was painted by Mrs. Wickenheiser's friend and former colleague, Dianne Kubik.
Mrs. Wickenheiser plans to return to Dr. Hamman as a volunteer in the coming year as part of the school Grandpals project.