Back to staff directory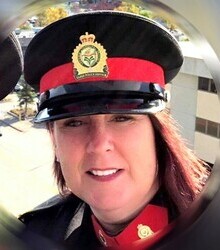 School Resource Officer
Hello, my name is Juanita Fudge and I am grateful for the opportunity of being the Taber Police Service's School Resource Officer in partnership with the Horizon and Holy Spirit School Divisions.
I have been a Police Officer since September 2011. After graduating from the Atlantic Police Academy, in Prince Edward Island. I began my career with the Taber Police Service moved to Taber from a small fishing community in Nova Scotia to join this popular Taber corn community.
The majority of my career has been spent in Patrols, which has allowed me many opportunities to interact with and become involved in various organizations. I am the first female senior constable for the Taber Police Services, which afforded me to attend many Women in leadership and Women in policing conferences. Some of these conferences were held in Calgary, Los Vegas and even as far away as Alaska.
Before my policing career, I was a librarian and a single mom of two boys. I have also worked as a radio personality and a column writer for a local newspaper. I am a two-time cancer survivor. I grew up in a fishing home, with my father being a lobster fisherman. My two boys are now involved in the fishing community. My oldest is a fisher of clams on a large fishing trawler and my youngest is the captain of his own lobster-fishing vessel.
I believe that lasting communities are built upon strong foundations where family structure, honesty, faith and respect are instilled in our youth through the support of our valued educators and community. "It takes a community to raise a child"
I am proud and eager to support the education and development of our community's future leaders and look forward to building many lifelong relationships, through laughter, a lot of love and support.