Back to staff directory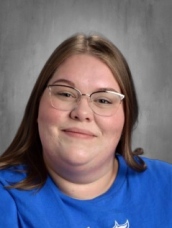 Kindergarten
Hi! My name is Mrs. Wright and I am so happy to be part of the Dr. Hamman team for the second year!
My teaching passions are inclusive education, play-based learning, and student centered classroom design. This year in kindergarten students will learn how to work and play with others. They will build structures, use technology, and compare numbers to problem solve, measure familiar objects, and sort objects based on shape and size. By exploring the world around us, students will become aware of how one action can cause something else. Sharing their explorations with classmates, forming letters, and printing their name will allow students to use language, learn new words, and express themselves .
When I'm not in the classroom, I love spending time with my husband, Caleb, son, Grayson, dog, Mister Business, and cats, Nova and Chichi. You can find us playing fetch in the park, biking, or toasting marshmallows around the fire pit in the backyard.
I am so very excited to spend the year playing and learning in Kindergarten!